Before
This was the first layer on the seat....
the second (nice, huh?)....
and the third (even better!).
She was seriously dying for a makeover!!
Here she is after. Much better!!
Check out her gorgeous legs!!
Here's the desk.
Before
Sorry, the picture is blurry, but trust me when I say she was rough (you couldn't possibly see under all that dust anyway!!).
After
I can't wait to show you the top! Craig sanded it all down for me, but we decided to leave just a little of the old stain deep in the wood. Then I stained it with Early American (Minwax) because I didn't want it to be too dark. It brought out all the dings, knotholes, and scratches. I love a piece of wood with character and this one's got a lot of it!! I just love the look of the planks too (the sides are planks as well). I finished it with 3 coats of poly.
This is seriously swoon worthy.
I left the original hardware as is because it is just so cool! I didn't want to paint them and cover up their natural patina--I love how they match how rustic the top is.
Sweet little curve on the front edge.
I really like how rustic the shape, the top, the distressing, and the hardware are and the little bit of formality the black and the fabric on the chair give. Who says you can't mix old and new?!
Linked up here: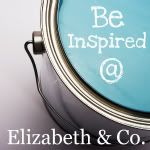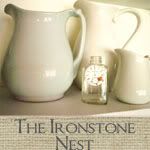 />