If you know me at all you know I cannot resist a great pair of legs! Well this little table has 3 pairs of great legs! It was pretty rough when it came to my shop. Parts were falling off and it needed some minor repairs, but (along with those fabulous legs) I loved the shape of it and the inlay on the top. I debated whether or not I should paint the top, but in the end I just couldn't do it! :) I had so much fun painting this
radio cabinet
that I couldn't wait until I found another piece to do the same color. I knew right away when I saw it that it was the one. :)
Before
After
I sanded the top all the way down (but left some of the old stain on the edges because I like the way it looks when you restain it) and stained it with Minwax in Dark Walnut, then gave her 3 coats of poly in a semi-gloss. I just realized I covered up the inlay with all my "stuff". Oops! It is very unique and pretty... maybe I'll have to go back and take another pic.
This color is just so pretty--so much better in person, too. I just stood there and stared at it for a minute (yes, I'm nuts!).
Check out all those yummy legs!
SOLD

This table was recently featured by Kathy @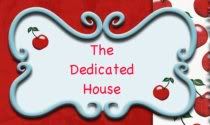 Thank you so much Kathy! Stop on by and check out her blog and other great features!